Discover more from Toiles to the Wall
Author. Classic style. Period home.
How to set a beautiful Thanksgiving table
One of the reasons I love Thanksgiving is that the table, meal, and people gathered around it are the stars of the show. Here are my tips for getting the table dressed for its big moment!
Choose the right color palette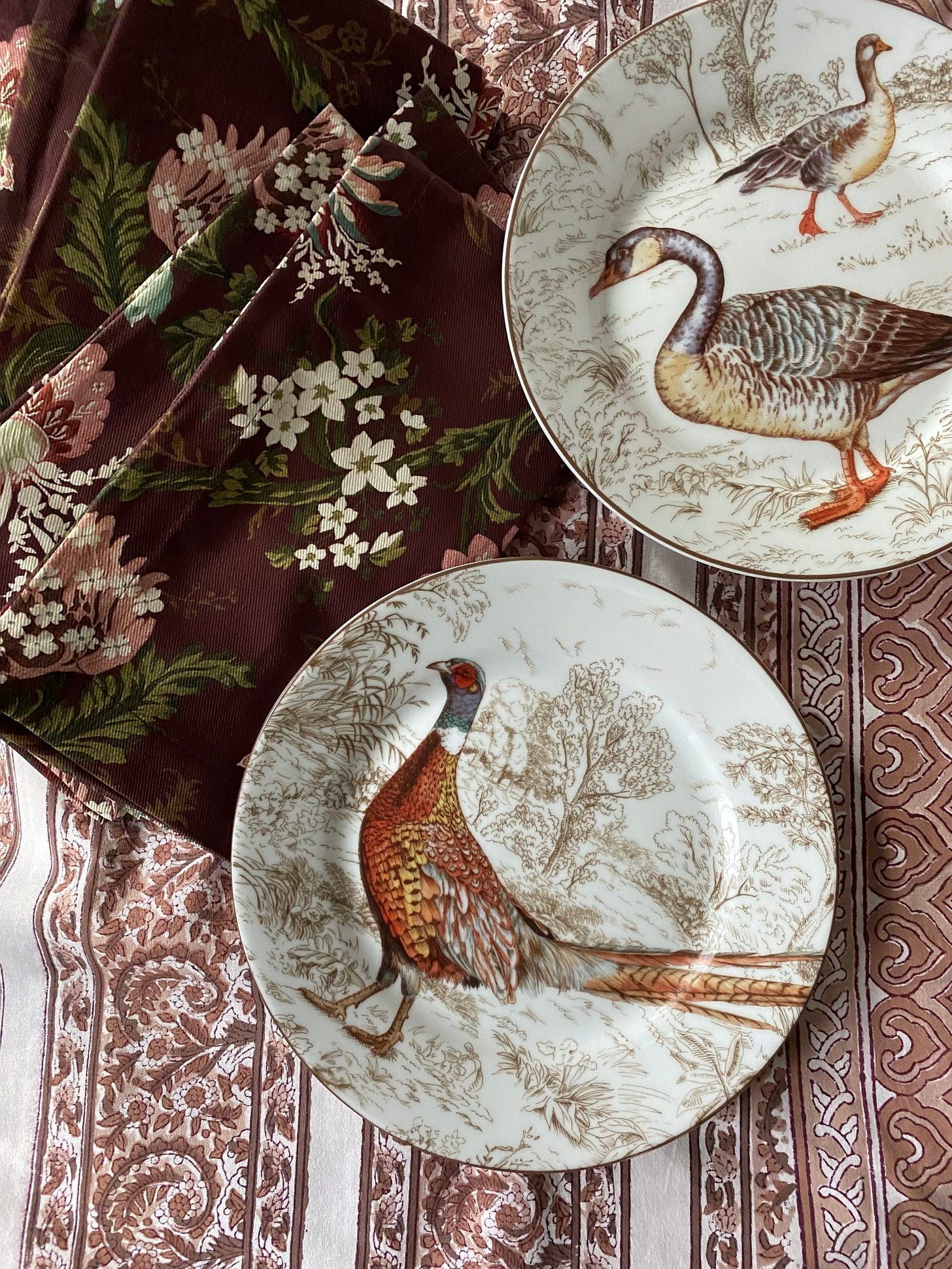 Thanksgiving isn't the holiday for an unexpected color palette. Save that for the December holidays. Fall tones are best here, but that's not to say you're locked into pumpkins and a wicker cornucopia. A muted blue paired with navy and white can look autumnal, too. My personal favorite color combination for fall is any shade of blue paired with pumpkin-pie orange.
Last year, I went with brown and burgundy - the Julia Amory Coco Fleur Stripe tablecloth with napkins in a print from the House of Scalamandre with a fall floral design on a burgundy ground. Don't be afraid to play with color a bit - a lot of fall colors are neutrals (brown, sage, navy), and you can't break those.
Work in several textures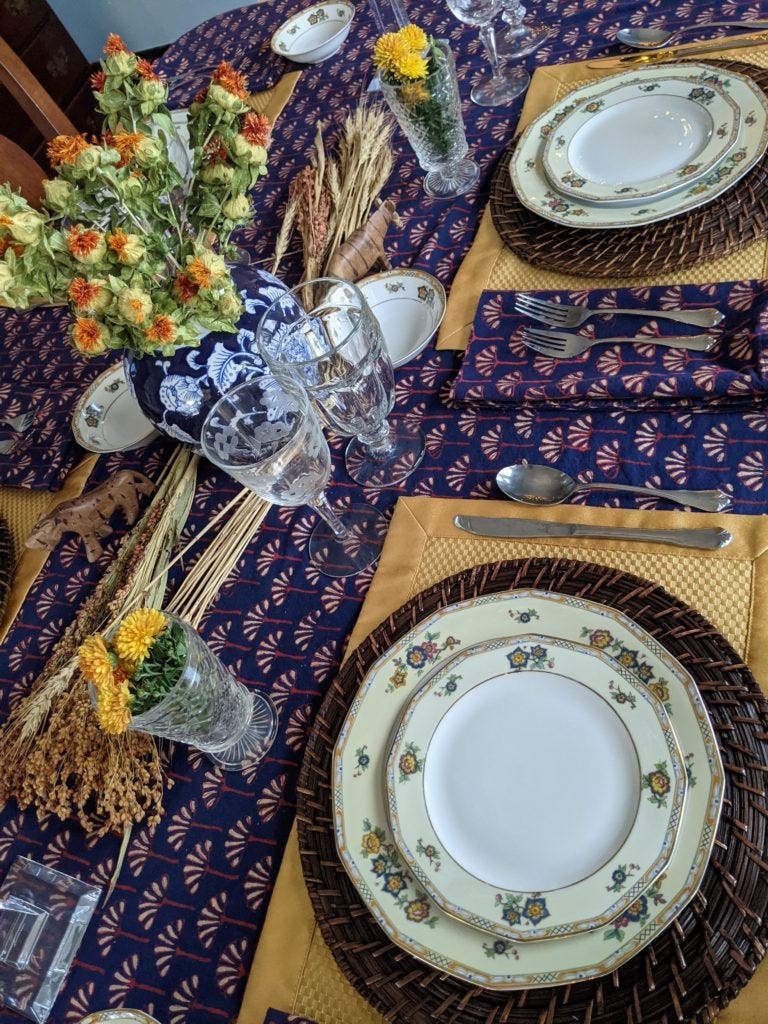 Texture is important to make any tablescape look complete, but it's especially important to bring texture into the Thanksgiving table. Fall is a very textural time in nature - think of crunchy leaves, fresh straw, warty pumpkins, shiny apples. A textured table really feels like autumn. Consider using rattan chargers and/or woven placemats, hammered metals, and miniature gourds on the table and a floral arrangement with a lot of variety. I love including a few stalks of wheat or pheasant feathers.
Creating a tablescape is somewhat like designing a room. All the elements that tie a room design together - color, texture, layering, symmetry - also make for the perfect table.
Layer up
Speaking of layering, this is the most common misstep I see on Thanksgiving tables. I know not everyone uses 'tablescape' as a verb. For many people, Thanksgiving is their one tablescape per year, and to take it to the next level, you need to take a layered approach.
You don't have to use every single layering item in every tablescape. The main idea is to avoid putting an unadorned dinner plate onto a bare table. Start with a tablecloth or table runner, then add: Placemat Charger Dinner plate Salad plate
I like to finish the layering with salad plates that have a design over the whole plate and not just the outer edge. It adds more interest than a plate with a lot of white space. A salad plate in a solid color other than white would work nicely, too.
Centerpieces
A lot of tablescape advice articles will tell you to keep the floral arrangement small and low so your guests can see over it. This isn't actually necessary. You're going to have to move the floral arrangement to accommodate the meal anyhow. You might as well make the arrangement a showstopper.
I like to include a mix of items on the table, and they're generally just pieces I scavenge from the house! A pair of carved wooden animals that normally lives on my daughter's dresser is a favorite. Any knick knacks or decorative items you use to style bookshelves or coffee tables are fair game. Fruit works, too.
On Thanksgiving, I wouldn't go crazy adding items to the table. You're most likely going to be covering it with serving dishes. Moving a vase is easy, but anything else will take too much time. Choose 2 items, one for each side of your arrangement, then add candles (for evening only) or smaller vases with a couple flowers from your main arrangement. Just be sure to keep the table symmetrical using the main floral arrangement as your center point.
I also love to use place cards. They keep guests who might not know about seating order from sitting in the 'wrong' spot and are a handy way to avoid heated political discussions at dinner! Take the opportunity to seat Cousin Jenny's obnoxious MAGA boyfriend well away from your vegan sister-in-law. I create my place cards in Canva to match the tablescape.
Use natural elements
Since Thanksgiving is a harvest festival and just because it looks nicer, don't use artificial elements on your table. Leave the fake leaf garlands and the silk floral arrangements aside. And hard pass on plastic turkeys or fake pumpkins. If something is made of plastic, it probably doesn't belong in your tablescape. I know it's more work, but please also leave aside disposable utensils, paper/plastic plates, and paper napkins. They're terrible for the environment and bring the aesthetic mood way down.
One of the keys to a successful tablescape is setting the table the proper way! Here's a helpful guide if you need a refresher.